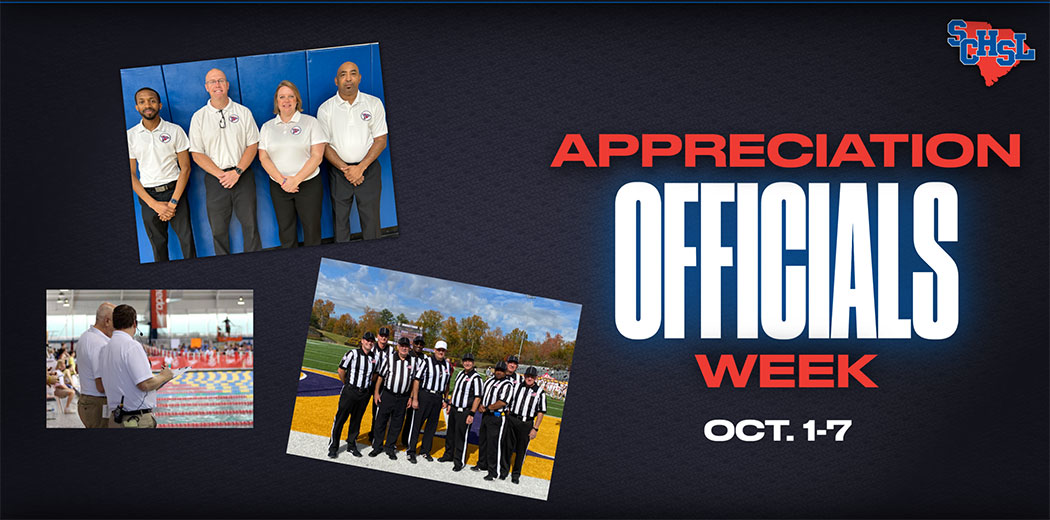 Fall Sports Officials' Appreciation Week is Oct.1-7
Fall Sports Officials' Appreciation Week is Oct.1-7. Show your appreciation to our officials throughout the state of South Carolina. Officials work to maintain the integrity of the sports they officiate and ensure student-athletes have a safe environment to play in. Without our officials, our student-athletes would not be able to enjoy the sports they love. So show your appreciation to the unsung heroes of interscholastic contests.
Participation in fall sports officials' appreciation week can be as simple or as extravagant as you want it to be. You can get your teams and student groups on campus to get involved. It is a great community project for school student councils, spirit groups or other groups that serve as ambassadors to your school and community. Some ideas that you can use for Fall Sports Officials' Appreciation Week are below.
Officials' appreciation week banners and signage on the fence, wall, etc., surrounding the contest playing area.
Gift cards/cookies/donuts/other items presented to the crew by both the home and visiting team.
Photos of the officiating crew with both teams and coaches prior to the start of the game (or at the end, depending on timing).
Read a PSA at the start of the game, thanking the crew for working the contest.
Student escorts of the crew onto the field/court/pitch.
"Thank you" cards, signed by the team and coaching staff.
Special appreciation signage in the officials' locker room.
Recorded "thank you" messages from student-athletes and coaches to officials, posted on social media.
We encourage you to submit pictures of your school and athletes showing appreciation to our officials being clicking on the link here: https://www.cognitoforms.com/SouthCarolinaHighSchoolLeague/FallSportsOfficialsAppreciationWeek