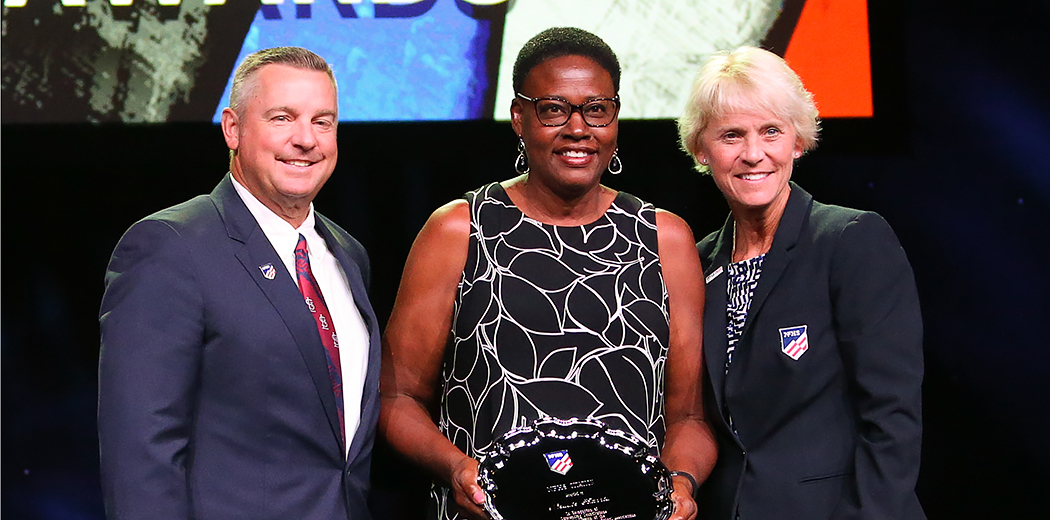 State High School Association Leaders receive NFHS Citations at 2021 NFHS Summer Meeting
Retired SCHSL associate commissioner Nessie Harris honored
Twelve leaders in high school activity programs were selected to receive National Federation of State High School Associations (NFHS) Citations last year and were honored in Orlando on June 30.
An award designed to honor individuals who have made contributions to the NFHS, state high school associations, athletic director and coaching professions, the officiating avocation and fine arts/performing arts programs, the NFHS Citation is one of the most highly-regarded achievements in high school athletics and performing arts.
Eight of the 12 award winners represent NFHS-member state high school associations, and four represent NFHS professional organizations for officials, coaches, music leaders and speech/debate/theatre directors.
The eight 2020 state association recipients were Tom Mezzanotte, Section 1, retired executive director, Rhode Island Interscholastic League, Warwick, Rhode Island; Mark Byers, Section 2, chief operating officer, Pennsylvania Interscholastic Athletic Association, Mechanicsburg, Pennsylvania; Nessie Harris, Section 3, retired associate commissioner, South Carolina High School League, Columbia, South Carolina; Kurt Gibson, Section 4, associate commissioner, Illinois High School Association, Bloomington, Illinois; Kathy Long, Section 5, retired administrative assistant, Missouri State High School Activities Association, Columbia, Missouri; Paul Angelico, Section 6, retired commissioner, Colorado High School Activities Association, Aurora, Colorado; Thomas Yoshida, Section 7, Hawaii High School Athletic Association, Honolulu, Hawaii; and Russell Schreckenghost, Section 8, associate director, Alaska School Activities Association, Anchorage, Alaska.
The four 2020 Citation recipients representing the NFHS professional organizations were Joe Tonelli, NFHS Officials Association, executive staff member, Connecticut Interscholastic Athletic Conference, Cheshire, Connecticut; Rob Younger, NFHS Coaches Association, executive director, Oregon Athletic Coaches Association, Sweet Home, Oregon; Cathleen Britton, NFHS Music Association, retired director of music, O'Gorman High School, Sioux Falls, South Dakota; and Cheryl Frazier, NFHS Speech/Debate/Theatre/Academics Association, director of forensics and theatre, Southland College Prep High School, Richton Park, Illinois.