Competitive Cheer Championships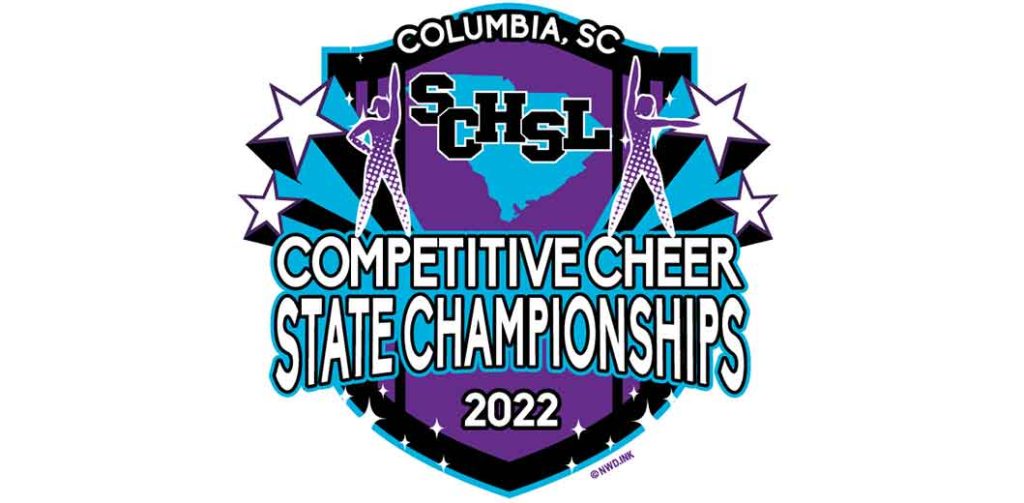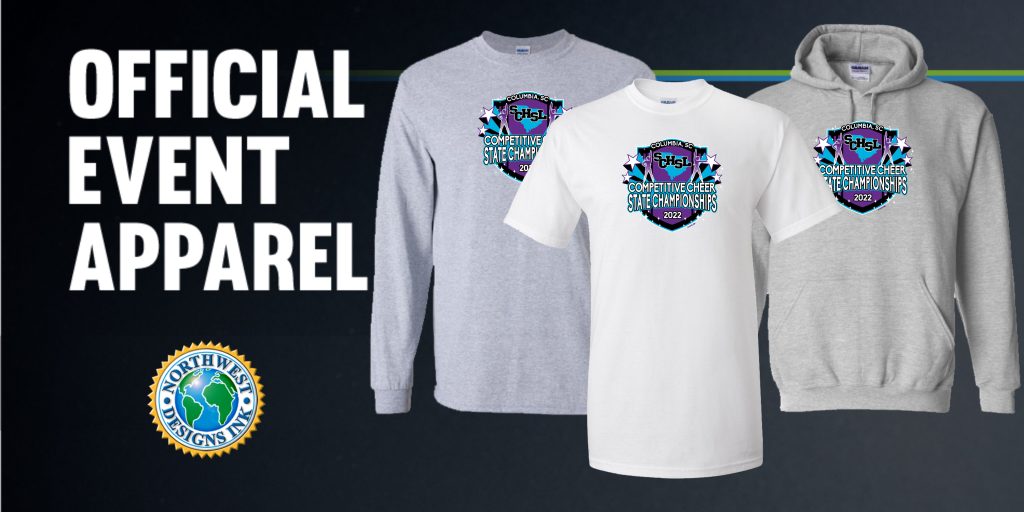 Program:
Download
Date:
Saturday, Nov. 19
Schedule:
Class 2A 10:00 a.m.
Class 3A 12:30 p.m.
Class 4A 3:30 p.m.
Class 5A 6:30 p.m.
Location:
Colonial Life Arena
Map:
Tickets:
GoFan
Livestream:
NFHS Network
Fan Information:
SPECTATOR ENTRANCE & ADMISSION
The Colonial Life Arena will be open to the public at 9:15 am. Spectators must enter the Colonial Life Arena at the main entrance located on the corner of Lincoln St. and Greene St

$15.00 for everyone. (3 & under if held in lap are admitted free.)
Tickets can be purchased in advance through Go Fan or at the Colonial Life Arena box office (Cash Only)

No outside food or drink can be brought in.

No bullhorns, airhorns, cowbells or other noise makers.

Spectators will be allowed to bring in signs that fit the perimeters of 24″L x 18″W. If attached to a paint stick, stick must be shorter than 8 inches.

There is clear bag policy.

Fans will not be permitted to reserve sections of seats.

The SCHSL Pass Gate will be located on Lincoln Street at the College St. entrance of the Colonial Life Arena.
Order of competition
AA
10:00
Ninety-Six
10:07
Pelion
10:14
Abbeville
10:21
Keenan
10:28
Liberty
10:35
Barnwell
10:42
Riverwalk
10:49
Fox Creek
10:56
Gray Collegiate
11:03
Landrum
11:10
Mid-Carolina
11:17
Chesnee
AAA
12:30
Lower Richland
12:37
Powdersville
12:44
Seneca
12:51
Brookland-Cayce
12:58
Chapman
1:05
Blue Ridge
1:12
Palmetto
1:19
Wren
1:26
Gilbert
1:33
Broome
1:40
Belton-Honea Path
1:47
Daniel
1:54
Travelers Rest
2:01
Walhalla
AAAA
3:30
Ridge View
3:37
Lucy Beckham
3:44
Northwestern
3:51
Riverside
3:58
West Florence
4:05
Easley
4:12
A.C. Flora
4:19
Lugoff-Elgin
4:26
South Florence
4:33
Myrtle Beach
4:40
Hilton Head Island
4:47
York Comprehensive
4:54
Airport
5:01
Catawba Ridge
5:08
North Myrtle Beach
5:15
Irmo
AAAAA
6:30
Carolina Forest
6:37
Summerville
6:44
Clover
6:51
Lexington
6:58
Spring Valley
7:05
Boiling Springs
7:12
Chapin
7:19
Dorman
7:26
Dutch Fork
7:33
Blythewood
7:40
J. F. Byrnes
7:47
Fort Mill
7:54
Nation Ford
8:01
River Bluff
8:08
TL Hanna
8:15
St. James
Schedule
Class AA
Team
Registration
Stretch Hall
Mat #
Warmups
On Deck
Perform
Ninety-Six
8:30
9:28
1
9:38
9:53
10:00
Pelion
8:35
9:35
2
9:45
10:00
10:07
Abbeville
8:40
9:42
1
9:52
10:07
10:14
Keenan
8:45
9:49
2
9:59
10:14
10:21
Liberty
8:50
9:56
1
10:06
10:21
10:28
Barnwell
8:55
10:03
2
10:13
10:28
10:35
Riverwalk Academy
9:00
10:10
1
10:20
10:35
10:42
Fox Creek
9:05
10:17
2
10:27
10:42
10:49
Gray Collegiate
9:10
10:24
1
10:34
10:49
10:56
Landrum
9:15
10:31
2
10:41
10:56
11:03
Mid-Carolina
9:20
10:38
1
10:48
11:03
11:10
Chesnee
9:25
10:45
2
10:55
11:10
11:17
Class AAA
Team
Registration
Stretch Hall
Mat #
Warmups
On Deck
Perform
Lower Richland
11:00
11:58
1
12:08
12:23
12:30
Powdersville
11:05
12:05
2
12:15
12:30
12:37
Seneca
11:10
12:12
1
12:22
12:37
12:44
Brookland-Cayce
11:15
12:19
2
12:29
12:44
12:51
Chapman
11:20
12:26
1
12:36
12:51
12:58
Blue Ridge
11:25
12:33
2
12:43
12:58
1:05
Palmetto
11:30
12:40
1
12:50
1:05
1:12
Wren
11:35
12:47
2
12:57
1:12
1:19
Gilbert
11:40
12:54
1
1:04
1:19
1:26
Broome
11:45
1:01
2
1:11
1:26
1:33
Belton-Honea Path
11:50
1:08
1
1:18
1:33
1:40
Daniel
11:55
1:15
2
1:25
1:40
1:47
Travelers Rest
12:00
1:22
1
1:32
1:47
1:54
Walhalla
12:05
1:29
2
1:39
1:54
2:01
Class AAAA
Team
Registration
Stretch Hall
Mat #
Warmups
On Deck
Perform
Ridge View
1:30
2:58
1
3:08
3:23
3:30
Lucy Beckham
1:35
3:05
2
3:15
3:30
3:37
Northwestern
1:40
3:12
1
3:22
3:37
3:44
Riverside
1:45
3:19
2
3:29
3:44
3:51
West Florence
1:50
3:26
1
3:36
3:51
3:58
Easley
1:55
3:33
2
3:43
3:58
4:05
A.C. Flora
2:00
3:40
1
3:50
4:05
4:12
Lugoff-Elgin
2:05
3:47
2
3:57
4:12
4:19
South Florence
2:10
3:54
1
4:04
4:19
4:26
Myrtle Beach
2:15
4:01
2
4:11
4:26
4:33
Hilton Head Island
2:20
4:08
1
4:18
4:33
4:40
York Comprehensive
2:25
4:15
2
4:25
4:40
4:47
Airport
2:30
4:22
1
4:32
4:47
4:54
Catawba Ridge
2:35
4:29
2
4:39
4:54
5:01
North Myrtle Beach
2:40
4:36
1
4:46
5:01
5:08
Irmo
2:45
4:43
2
4:53
5:08
5:15
Class AAAAA
| | | | | | | |
| --- | --- | --- | --- | --- | --- | --- |
| Team | Registration | Stretch Hall | Mat # | Warmups | On Deck | Perform |
| Carolina Forest | 4:30 | 5:58 | 1 | 6:08 | 6:23 | 6:30 |
| Summerville | 4:35 | 6:05 | 2 | 6:15 | 6:30 | 6:37 |
| Clover | 4:40 | 6:12 | 1 | 6:22 | 6:37 | 6:44 |
| Lexington | 4:45 | 6:19 | 2 | 6:29 | 6:44 | 6:51 |
| Spring Valley | 4:50 | 6:26 | 1 | 6:36 | 6:51 | 6:58 |
| Boiling Springs | 4:55 | 6:33 | 2 | 6:43 | 6:58 | 7:05 |
| Chapin | 5:00 | 6:40 | 1 | 6:50 | 7:05 | 7:12 |
| Dorman | 5:05 | 6:47 | 2 | 6:57 | 7:12 | 7:19 |
| Dutch Fork | 5:10 | 6:54 | 1 | 7:04 | 7:19 | 7:26 |
| Blythewood | 5:15 | 7:01 | 2 | 7:11 | 7:26 | 7:33 |
| J.F. Byrnes | 5:20 | 7:08 | 1 | 7:18 | 7:33 | 7:40 |
| Fort Mill | 5:25 | 7:15 | 2 | 7:25 | 7:40 | 7:47 |
| Nation Ford | 5:30 | 7:22 | 1 | 7:32 | 7:47 | 7:54 |
| River Bluff | 5:35 | 7:29 | 2 | 7:39 | 7:54 | 8:01 |
| T.L. Hanna | 5:40 | 7:36 | 1 | 7:46 | 8:01 | 8:08 |
| St. James | 5:45 | 7:43 | 2 | 7:53 | 8:08 | 8:15 |